Past
Tournament Results
2017 IFC Captains Cup Dolphin Tournament Results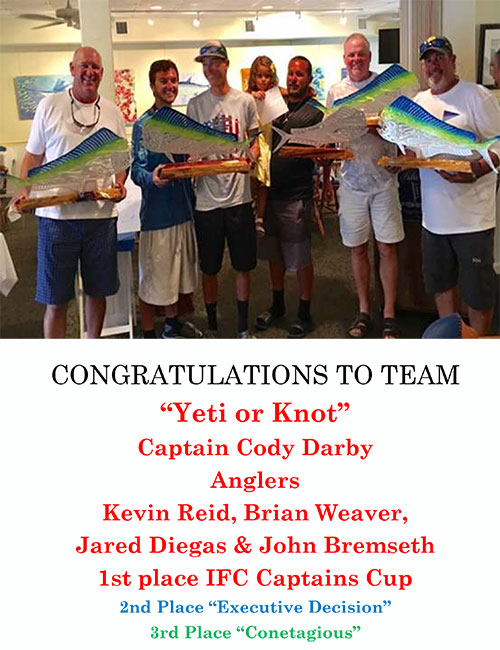 2017 IFC Gold Cup Sailfish Tournament Results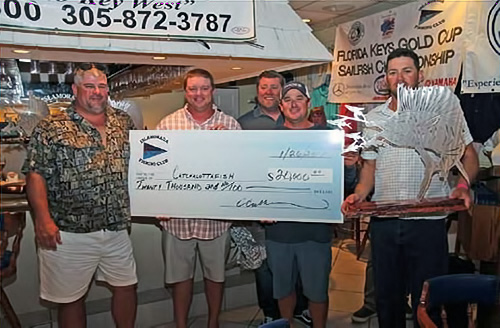 January 26, 2017 | $20,000.00 in cash plus prizes were awarded to Team Catchalottafish, winners of the 2017 Islamorada Fishing Clubs January Sailfish Tournament on January 26th with a field of 18 boats.

We were very happy with the attendance this year. There were 36 sailfish released in this one day event. The awards that were presented was original Art by Fish Bone Designs Winning trophies were presented to Billy Wood, Lee Robertson, & Bill Walters with 6 releases.

Catchalottafish Captain James Chappell & His Mate Drew Rhonehouse were also awarded custom original trophies & a check for $20,000.00 Relentless was the winner of the 2017 Gold Cup Series.

Kalex fought their way into second place securing their spot also with 4 releases on time. Anglers Patrick Nutt, Dan Birley & Justin Baker were given 2ndPlace Trophies. Captain Alex Adler & mate Rich took home trophies as well.

Captain Greg Eklund with Mate Codie Bailey on Cloud Nine released 4 sailfish to take home third place honors. Once again original art was presented to anglers Sharon Ellenwood, Billy Ellenwood & Erik Ehlers.

The Islamorada Fishing Club outdid themselves this time. I would like to commend the entire staff for a job well done. Our anglers loved the food, drink and good time we had. The next tournament in the fishing club's series is the June Dolphin Tournament. For more information on the Islamorada Fishing Club visit us online at
www.theislamoradafishingclub.com.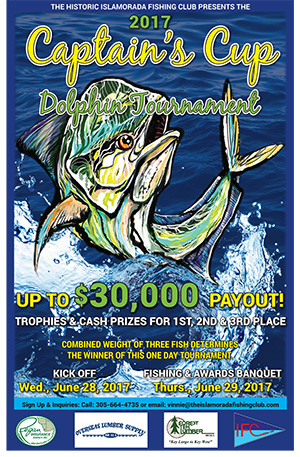 CONGRATULATIONS TO TEAM "CONTAGIOUS"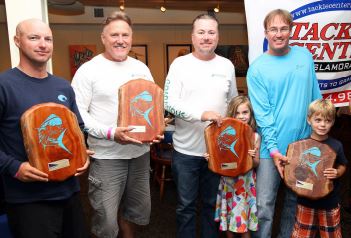 1st Place | 2016 IFC Captains Cup
Captain: Brian Cone
Anglers: Travis Bennett & Don Deleon
Mate: Dan Naumoff




2015 IFC Snook and Redfish Smack Down
Even though it was a blustery day, this year's IFC Snook and Redfish Smack Down had some great anglers and some great fishing!

Rob Preihs won overall Most Smack Downs with 13 combos of reds and snook! He also took home Most Snook Men at 13 and Most Reds Men with 16 fish.

Linda Denkert won Most Snook Women with 8 and Most Reds Women with one red and that was on time. Completing the awards roster is Asher Cockerham with Most Snook Junior Division releasing 7 nice snook. Everyone enjoyed Chef Joseph's wonderful barbeque and ribs after a long day of fishing.

Look for next year's IFC Snook and Redfish Smack Down coming in October 2016! Enter the family in the Men's, Women's or Junior Divisions!
January 2015 Gold Cup Sailfish Tournament

January 2015 Gold Cup Sailfish Tournament Application.pdf
2014 IFC Smack Down
2014 Captains Cup Dolphin Tournament
2012 IFC Sailfish Tournament
2012 Bob Regan Memorial Member/Guest Invitational Tournament
2011-2012 Florida Keys Gold Cup Sailfish Series
2011 Captain's Cup Sailfish Tournament
2011 Captain's Cup Dolphin Tournament