News
& Events
Message from the GM (August 2020)
Dear Members,
Welcome to the "DOG DAYS of SUMMER". The Summer heat is upon us, and we all should try to stay healthy and cool. It is club policy that reservations for all guests, must be called in advance by the sponsoring member themselves. Please keep in mind that during these unprecedented times we will be limiting club usage for guests.

Although, under normal circumstances, we would encourage you to send your guests to enjoy the club, in an abundance of caution and for the safety of all, we would ask that you refrain from sending your guests to dine at the club. Thank you for your cooperation with this important matter.

Please keep in mind that our annual closing dates will be September, 20th thru October 5th. We will re-open Tuesday October 6th.

Sincerely,

Vinnie Feola
General Manager
Islamorada Fishing Club
Message from the Board of Directors (August 2020)
On Behalf of the Board of Directors, I would like to bring you up to date on the State of the Club during these unusual times we are experiencing. There have been some great questions asked for Vinnie & myself to address.

The club is operating at 50% capacity as mandated by the county, which allows us to have 40 guests inside the club at any given time. This can be challenging, and making reservations as early as possible will help better facilitate your requests. If you wish to stay after dinner for a drink we encourage outside seating so that we can maintain our guest count at 40. It is also important to keep in mind that bar seating/service is limited to those members who have a reservation for a table that evening. Table seating is also limited to stay with-in mandated guidelines of social distancing. Liquor service is only available to seated guests at the table or at the bar with a prior dinner reservation.

Thanks to the efforts of Vinnie & the Staff the club is financially stable and will make it through theses difficult times. Our employees are healthy and appreciative of your continued support We have re-opened for lunch Thursday, Friday & Saturday only, with normal operating hours (11:30-2:00 pm) and Dinner hours are Tuesday thru Saturday, 5:30 to 8:00pm. We have kept our menus the same with some limitations, as well as nightly specials. Vinnie & the Chef are currently in the process of creating a new summer dinner menu.

We are continuing with our sanitation protocols, sanitizing all contact surfaces daily and intermittently through out the day and professionally fog sanitizing twice monthly. Vinnie has ordered three hand sanitizing dispensers which are expected to arrive the first week in August. There will be one in each rest room and one in the main entrance of the club.

2020 IFC Captain's Cup Sailfish Tournament Results
January 30, 2020

The Islamorada Fishing Club welcomed 48 anglers fishing on 16 boats for the Islamorada Fishing Club Captain's Cup Sailfish Tournament.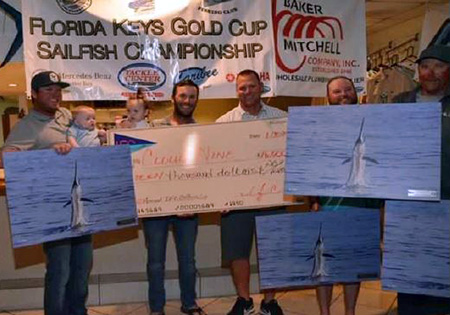 Northwest winds at 15kts greeted the fisherman with lines in at 8AM. Captain Greg Eklund aboard his charter boat Cloud Nine called in a double header of sailfish at 8:24. Mate Eric Ehlers would get the release on both fish putting the Cloud Nine in first place with two fish. The team would sit on pins and needles throughout the day searching for more sailfish.

Other teams would slowly catch up to them, first Crisdel then Hell Reyzer followed by Remix, Conetagious and Relentless all with two releases. When the committee boat called lines out at 4PM anglers Josh Jackson from Temple, TX along with Cory Nelson and Jake Turek from Islamorada FL, would breathe a sigh of relief as the early morning double landed them in first place on time. Centennial Bank would present the team with beautiful Tim Rahn Photography prints and a check for $16,000.00. Winning Captain Greg Eklund was awarded the Captain's Cup full of gift certificates from local establishments.

Second Place went to Crisdel with anglers Frank and Tony Criscola from Fairhills, NJ along with Joe Prestiffillpo also from NJ. Captain George Stellar along with mates Brad Goodrich and Jeff Dickman were all awarded Caribee Boat Sales and Yamaha Outboard sponsored second place trophies for the team's two releases.

Captain Ryan Alexander of the Hell Reyzer took third place with two fish on time. Anglers Victor Paneda, Eric Darvill and Johnny Vilorio along with Mate Cap Hinkley all from Miami would take home the third place awards sponsored by Baker Mitchell Plumbing and Tackle Center of Islamorada.

The Islamorada Fishing Club put on another great event", stated tournament director Dianne Harbaugh. "The great food and service the club provides makes it a fun place to have a party." In total 17 fish were released in the one day event.

The Islamorada Fishing Clubs Captains Cup Dolphin tournament will be held June 25 2020. More Information can be found on the web site: www.theislamoradafishingclub.com
2019 IFC Captain's Cup Dolphin Tournament Results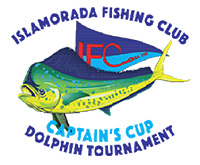 Executive Decision wins the 2019 IFC Gold Cup Dolphin Tournament!

Anglers were greeted with beautiful weather on Thursday June 27th for the 20th Annual Islamorada Fishing Clubs Dolphin Tournament.

42 anglers headed out to capture three big dolphin. It would be the largest combined weight of three fish that would be needed to win the tournaments $13,000.00 in prize money. When the scales closed at 5PM all the stories were the same. There were lots of fish out there but no big ones.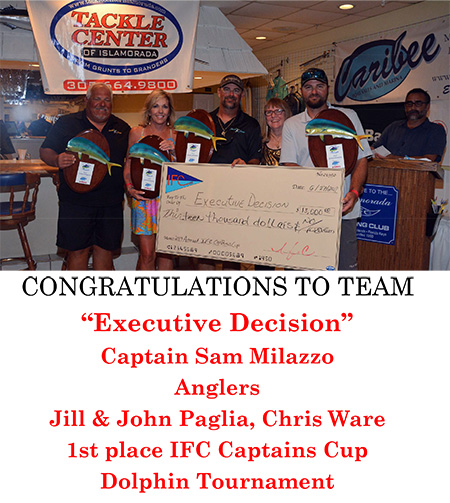 It would be Captain Sam Milazzo aboard the Executive Decision that would find the three biggest dolphin, Caribee Boat Sales and Yamaha Outboards sponsored first place trophies would go to Anglers Jill and John Paglia from Duck Key, FL along with Chris Ware from Alva, FL. The team would weigh two fish at exactly 11.7 pounds combined with their third fish of 9.6 for a total of 33.0 pounds to win the $13,000.00 grand prize and beautiful King Sailfish trophies. Captain Sam would take home the Captain's Cup filled with donated gift certificates from many local businesses.

Capt. Roy Lindback of the Charter Boat Tiki out of Caloosa Cove Marina would be close on their heels with a total of 32.2 pounds. Anglers Kevin Liston and Kyle Kotalik from Wellington, FL. along with Roddy Bryson from Davie, FL and Jim Nardy of Lake Worth, FL would weigh fish in at 15.6, 9.5 and 7.1 pounds to take the TD Bank and Woodspring Suites sponsored second place trophies.

Junior angler Reece Gunther fishing with his dad Jason Gunther would land the biggest fish of the tournament a 19.8 pound Dolphin. The team was fishing with angler John Watson from Ft. Lauderdale, FL aboard the Blue Heaven out of Post Card Inn. Captain Skye Stanley also boated two more fish of 5.0 and 4.7 pounds to win his team Tackle Center of Islamorada and Regan Insurance trophies for third place with a total of 29.5 pounds.

"The Islamorada Fishing Club put on an amazing show," stated Tournament Director, Dianne Harbaugh. Angler gifts and ditty bags loaded with swag were handed out on the kick off night. Fantastic appetizers followed by a dinner buffet awaited all the anglers and guests. The awards ceremony on Thursday evening was filled with amazing appetizers followed by a huge surf and turf dinner and finished off with a Key Lime pie. All the anglers and captains are excited and ready to be a part of next year's event which will be the last Thursday in June.

For more information on the tournament and the Islamorada Fishing Club call the club at 305-664-4735.