News
& Events
Message from the GM (October 2019)
Dear Members,
The club is re-opened, and we are anxiously awaiting the return of all the snowbirds. I would like to take this time to remind everyone that we strongly encourage members to make your dining room reservations 24-48 hours in advance, and to notify the club promptly of any cancellations or changes to your reservation.
The Holiday Season will soon be upon us Start Planning your Holiday Parties early to secure availability at the club. Please be sure to place your name placard in the windshield and pull all the way forward when visiting the club . This will make it a lot easier to get a car moved. If you need a placard, please ask, we have a lot!
Sincerely,

Vinnie Feola
General Manager
Islamorada Fishing Club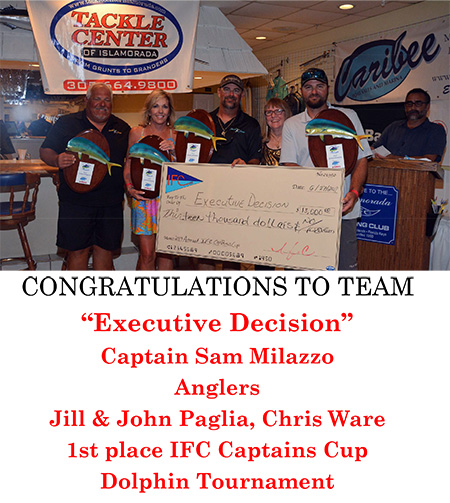 Executive Decision wins the 2019 IFC Captain's Cup Dolphin Tournament!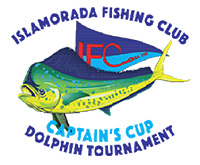 Anglers were greeted with beautiful weather on Thursday June 27th for the 20th Annual Islamorada Fishing Clubs Captain's Cup Dolphin Tournament.

42 anglers headed out to capture three big dolphin. It would be the largest combined weight of three fish that would be needed to win the tournaments $13,000.00 in prize money. When the scales closed at 5PM all the stories were the same. There were lots of fish out there but no big ones.

It would be Captain Sam Milazzo aboard the Executive Decision that would find the three biggest dolphin, Caribee Boat Sales and Yamaha Outboards sponsored first place trophies would go to Anglers Jill and John Paglia from Duck Key, FL along with Chris Ware from Alva, FL. The team would weigh two fish at exactly 11.7 pounds combined with their third fish of 9.6 for a total of 33.0 pounds to win the $13,000.00 grand prize and beautiful King Sailfish trophies. Captain Sam would take home the Captain's Cup filled with donated gift certificates from many local businesses.

Capt. Roy Lindback of the Charter Boat Tiki out of Caloosa Cove Marina would be close on their heels with a total of 32.2 pounds. Anglers Kevin Liston and Kyle Kotalik from Wellington, FL. along with Roddy Bryson from Davie, FL and Jim Nardy of Lake Worth, FL would weigh fish in at 15.6, 9.5 and 7.1 pounds to take the TD Bank and Woodspring Suites sponsored second place trophies.

Junior angler Reece Gunther fishing with his dad Jason Gunther would land the biggest fish of the tournament a 19.8 pound Dolphin. The team was fishing with angler John Watson from Ft. Lauderdale, FL aboard the Blue Heaven out of Post Card Inn. Captain Skye Stanley also boated two more fish of 5.0 and 4.7 pounds to win his team Tackle Center of Islamorada and Regan Insurance trophies for third place with a total of 29.5 pounds.

"The Islamorada Fishing Club put on an amazing show," stated Tournament Director, Dianne Harbaugh. Angler gifts and ditty bags loaded with swag were handed out on the kick off night. Fantastic appetizers followed by a dinner buffet awaited all the anglers and guests. The awards ceremony on Thursday evening was filled with amazing appetizers followed by a huge surf and turf dinner and finished off with a Key Lime pie. All the anglers and captains are excited and ready to be a part of next year's event which will be the last Thursday in June.

For more information on the tournament and the Islamorada Fishing Club call the club at 305-664-4735.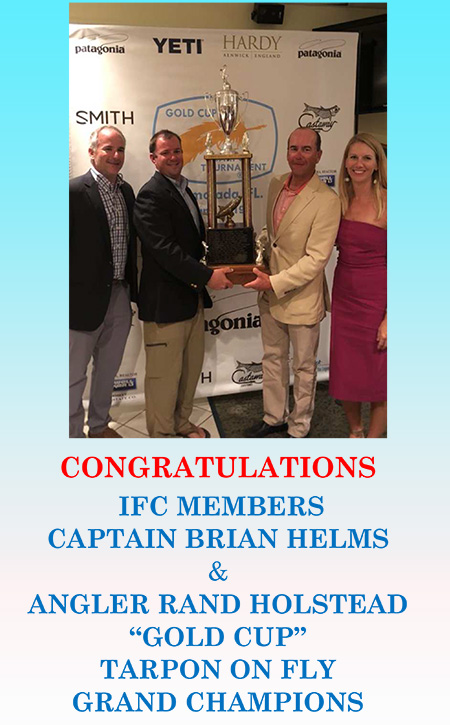 2019 IFC Captain's Cup Sailfish Tournament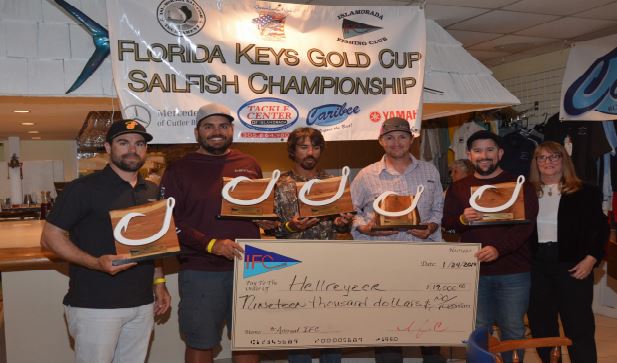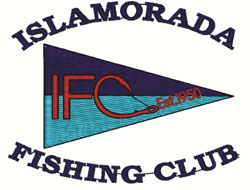 January 24, 2019

$19,000.00 in cash plus prizes were awarded to Team "Hell Reyzer" winners of the 2019 Islamorada Fishing Clubs Captain's Cup January Sailfish Tournament on January 24th with a field of 19 boats.

We were very happy with the attendance this year. There were 34 sailfish released in this one day event. The awards that were presented were original Sculptures by Jimmy Mac Studios. Winning trophies were presented to Captain Ryan Alexander and anglers with 5 releases on-Time. "Hell Reyzer" Captain Ryan & His Mate Eric were also awarded custom original trophies & a check for $19,000.00. "Cloud Nine" fought their way into second place securing their spot also with 5 releases. Anglers Jake, Erik & Mike were given 2nd Place Trophies. IFC Member Captain Greg Eklund & mate Jake Turek took home trophies as well.

IFC Member Captain Robert Collins Anglers Matt, Ken & Mark Fishing on IFC member Erik Akins' "Last Dance" released 4 sailfish to take home third place honors. Once again Hand Crafted Sculptures were presented to The Captain, Mate & anglers.

The Islamorada Fishing Club out did themselves this time. I would like to commend the entire staff for a job well done. Our anglers loved the food, drink and good time we had. The next tournament in the fishing club's series is the Captain's Cup Dolphin Tournament in June. For more information on the Islamorada Fishing Club visit us online at www.theislamoradafishingclub.com.