News
& Events
Easter Buffet Brunch 2019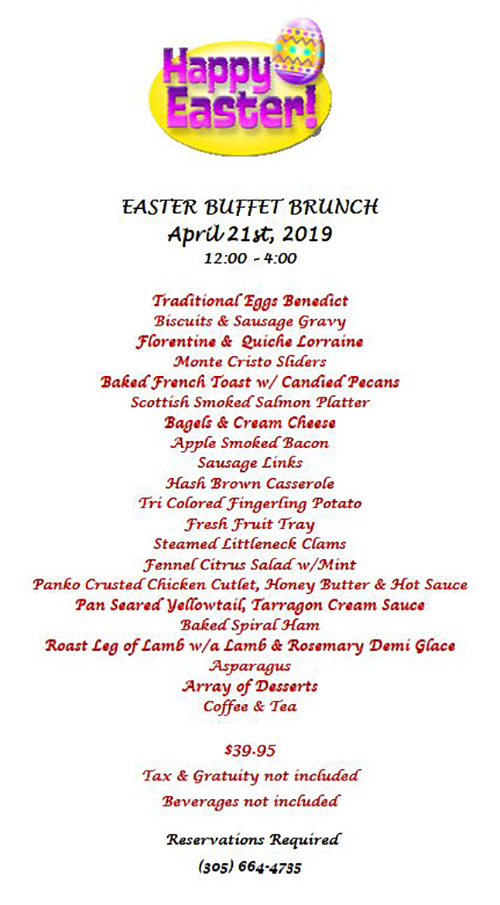 Message from the GM (April 2019)
Dear Members,
Thank you to all our members who came to our annual meeting. All your gracious comments meant a lot to myself and the board as well. I hope you all enjoyed the "Great News" and the wonderful party afterwards.

Every month I receive questions about member billing. We bill your credit card twice a month. On the 1st of the month, which covers all charges from the 15th of the prior month to the end of the prior month, plus dues and any unspent food and beverage minimums due. The 2nd billing is on the 15th of every month which covers all charges from the 1st to the 15th of the current month. If you have any questions regarding your statements and or the billing process, don't hesitate to call me, I hope this explanation helps. Spring is in the air and tarpon abound. We are still experiencing a great season and looking forward to a very busy April & May.

Please make any dinner reservations 24 to 48 hours in advance. Please be considerate to your fellow members & make sure to have your parking/name card on your dashboard when you come to the club and park 3 deep pulling all the way forward.

Sincerely,

Vinnie Feola
General Manager
Islamorada Fishing Club
2019 Islamorada Fishing Clubs Captain's Cup Sailfish Tournament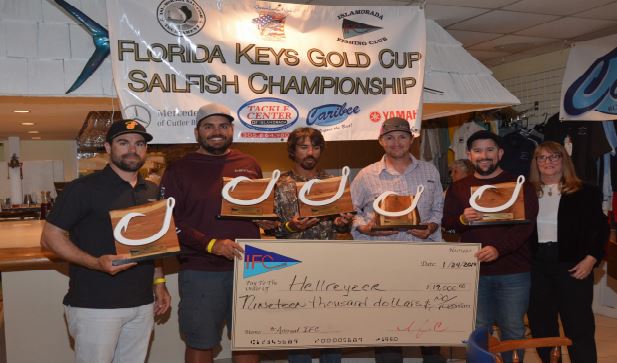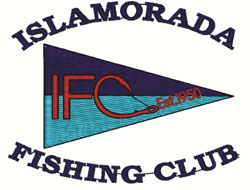 January 24, 2019

$19,000.00 in cash plus prizes were awarded to Team "Hell Reyzer" winners of the 2019 Islamorada Fishing Clubs Captain's Cup January Sailfish Tournament on January 24th with a field of 19 boats.

We were very happy with the attendance this year. There were 34 sailfish released in this one day event. The awards that were presented were original Sculptures by Jimmy Mac Studios. Winning trophies were presented to Captain Ryan Alexander and anglers with 5 releases on-Time. "Hell Reyzer" Captain Ryan & His Mate Eric were also awarded custom original trophies & a check for $19,000.00. "Cloud Nine" fought their way into second place securing their spot also with 5 releases. Anglers Jake, Erik & Mike were given 2nd Place Trophies. IFC Member Captain Greg Eklund & mate Jake Turek took home trophies as well.

IFC Member Captain Robert Collins Anglers Matt, Ken & Mark Fishing on IFC member Erik Akins' "Last Dance" released 4 sailfish to take home third place honors. Once again Hand Crafted Sculptures were presented to The Captain, Mate & anglers.

The Islamorada Fishing Club out did themselves this time. I would like to commend the entire staff for a job well done. Our anglers loved the food, drink and good time we had. The next tournament in the fishing club's series is the Captain's Cup Dolphin Tournament in June. For more information on the Islamorada Fishing Club visit us online at www.theislamoradafishingclub.com.