News
& Events
Valentines Day 2019 | Dinner
February 14, 2019

Appetizers:
Salmon Tartare with Traditional Accoutrements
or
Pan Seared Lobster Tail with Corn Relish

Soup / Salad:
Wild Porcini Mushroom Soup
or
Baby Field Greens, Pickled Apple, Crispy Pancetta,
Fried Goat Cheese and Balsamic Reduction

Entrees Choice:
Scallop Encrusted Yellowtail Snapper, Au Gratin Potatoes, Asparagus,
Bacon and Scallion Cream
or
Grilled Pork Chop with Smashed Purple Potatoes, wilted Spinach
Jalapeño Ginger Beer Glaze
or
Seared New York Strip with Honey Rosemary Eggplant, Fingerling
Potatoes and Roasted Tomato Hollandaise

Dessert:
Chocolate Marquis Cake with Amarena Cherries

Price: $58.00 (Plus Tax & Gratuity)
* Beverages Not Included | Reservations Required | Regular dinner menu not available this night
Message from the IFC President (February 2019)
Dear Members,
On behalf of the Board of Directors, I am pleased to announce that we are under contract for the purchase of additional property on Madeira Road within walking distance from the Club. As everyone knows, parking has been of concern for quite some time. We have been extremely fortunate through the years to have great neighbors and supportive members, the Lindback Family, who have been gracious enough to work with us for overflow parking. For some time, we had an arrangement with Vernis and Bowling to use their back lot just 400 feet from our entrance but due to their insurance carrier's concerns we were unable to continue using that lot.

The Board along with staff has worked diligently to put the Club in the best financial position in years thus allowing us to capitalize on this seldom available opportunity to provide a permanent, owned parking alternative for events, busy evenings, and future
plans to enhance our facility.

Upon closing the transaction, of which our board member Patty Stanley, acting as our realtor, has generously donated her portion of the commission towards our closing costs, we will work to come up with an effective plan to use the property to alleviate many of our parking issues. I am truly excited about this opportunity as I know many of our members will be too.

Sincerely,

Joe Roth III
President
Islamorada Fishing Club
2019 Islamorada Fishing Clubs Captain's Cup Sailfish Tournament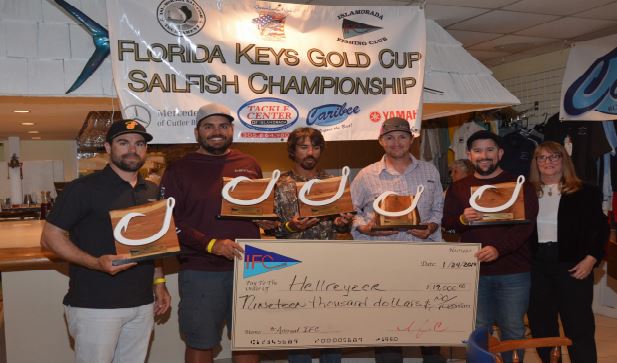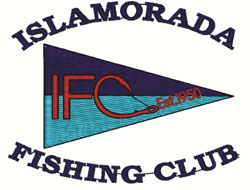 January 24, 2019

$19,000.00 in cash plus prizes were awarded to Team "Hell Reyzer" winners of the 2019 Islamorada Fishing Clubs Captain's Cup January Sailfish Tournament on January 24th with a field of 19 boats.

We were very happy with the attendance this year. There were 34 sailfish released in this one day event. The awards that were presented were original Sculptures by Jimmy Mac Studios. Winning trophies were presented to Captain Ryan Alexander and anglers with 5 releases on-Time. "Hell Reyzer" Captain Ryan & His Mate Eric were also awarded custom original trophies & a check for $19,000.00. "Cloud Nine" fought their way into second place securing their spot also with 5 releases. Anglers Jake, Erik & Mike were given 2nd Place Trophies. IFC Member Captain Greg Eklund & mate Jake Turek took home trophies as well.

IFC Member Captain Robert Collins Anglers Matt, Ken & Mark Fishing on IFC member Erik Akins' "Last Dance" released 4 sailfish to take home third place honors. Once again Hand Crafted Sculptures were presented to The Captain, Mate & anglers.

The Islamorada Fishing Club out did themselves this time. I would like to commend the entire staff for a job well done. Our anglers loved the food, drink and good time we had. The next tournament in the fishing club's series is the Captain's Cup Dolphin Tournament in June. For more information on the Islamorada Fishing Club visit us online at www.theislamoradafishingclub.com.