Islamorada Fishing Club's
January Sailfish Tournament
January 23, 2014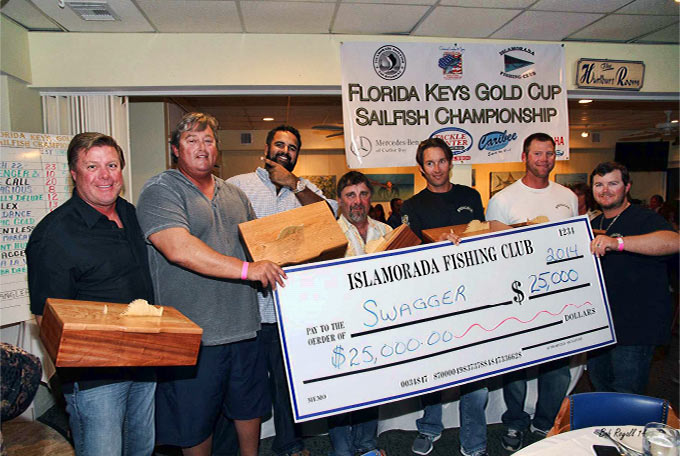 $25,000.00 in cash plus prizes were awarded to Team Swagger of Islamorada, winners of the Islamorada Fishing Club's January Sailfish Tournament on January 23rd with a field of 20 boats. "We were very happy with the attendance this year. There were 64 sailfish released in this one day event." The awards that were presented were original wood boxes topped with a sailfish by Doug Berry.

Winning trophies, sponsored by Mercedes Benz of Cutler Bay, went to Anglers Eric Overhardt, Larry Amoyette & Sean Smith with 7 releases on Swagger. Captain George McLeveen and Mate Justin Miller were also awarded custom original trophies that were sponsored by Caribee Boat Sales and Yamaha Outboards.

Captain Robert Collins with Mate Richard Black on the Last Dance released 7 sailfish on time, taking home second place honors. Once again original art was presented to anglers Eric Atkins ,Brandon Hopper,& Matt Mclean. Captain and mate Awards were sponsored by Outback Steak House.

Relentless fought their way into third place securing their spot with 7 releases also. Anglers Fenton Langston, Jimmy Hendriks & Debbie David with Captain Paul Ross & Mate Mike Walters took home trophies sponsored by Regan Insurance.

"The Islamorada Fishing Club outdid themselves this time. I would like to commend the entire staff for a job well done. Our anglers loved the food, drink and good time we had. The next tournament in the fishing club's series is the June Dolphin Tournament.